Welcome to our continuing 'Meet the Public Adjuster' series, featuring members of the Professional Loss Adjusters team. We hope you enjoy getting to know our Adjusters. We feel lucky to have team members who are so knowledgeable about our industry and care deeply about the well-being of our clients.
Lee, you've been doing this for almost 30 years. How did you get into the business?
I helped my best friend, who was trying to get into the business, study for the licensure test. I became interested enough in the material to take the test myself. I then got into the board-up side of the business and eventually was offered a position with Sadick Adjusters. That was 29 years ago, and I haven't looked back!
What do you think your greatest strengths are as an adjuster?
Customer service skills – really being empathetic to the needs of our clients. I'm a good listener and make myself available 24/7. I really value people's time and have a lot of empathy for what they're going through. To me, communication is key, going slowly, explaining things carefully, setting a realistic expectation of the claims process, so that my clients have a true understanding of what it takes to get across the finish line.
PLA is highly respected in the industry so often this helps for a smooth claims process with seasoned adjusters from the insurance companies.
What do you see as the greatest challenges facing Public Adjusters today?
Trying to avoid the unilateral process of some adjusters and insurance companies. Often, we deal with inexperienced adjusters who are hired and not fully trained by the insurance companies in what it takes to properly adjust a loss. Adjusters who do not have a lot of varied claims adjusting experience. No two claims are alike; they each have their own unique set of issues.
What gives you the most job satisfaction?
Seeing people back on their feet again, happy, smiling. Bringing them the final check to their restored property, knowing that they've been made whole. I've often been invited back for family events, parties and barbeques. It's a great feeling when the homeowner is introducing me to his guests and saying to them "if you ever have an insurance claim, you need to call Lee right away."
What do you like to do when you're not at work?
I'm an avid plants-man. A plant shop opened in our neighborhood during the pandemic, and we started buying plants. We now have about 75 house plants. My wife, daughter and I have color-coded stickers to identify which plants belong to which person. We are really enjoying this as a family hobby. I like to spend a lot of time with my daughter nurturing them. It's very relaxing. She has a moisture meter with a probe to determine a watering schedule to keep them happy and healthy. My favorite plant is a philodendron that my daughter gave me. It's in my home office.
I also spend a lot of time with my dogs; they are an important part of my life. I support Second Chance Animal Rescue. Elmer is two and Timmy is five. They were both rescued from high kill shelters. Timmy was rescued during the pandemic. Elmer was in the witness protection program with his original owner. His photo wasn't listed because of that. We went to view another dog, but it was a first come, best fit situation and Elmer was a better fit for our family. The rescue named him Elmer because he sticks to you like glue. We already had Timmy for eighteen months at that point. It was love at first sight for them as soon as Timmy and Elmer met. They are brothers who take care of us and themselves.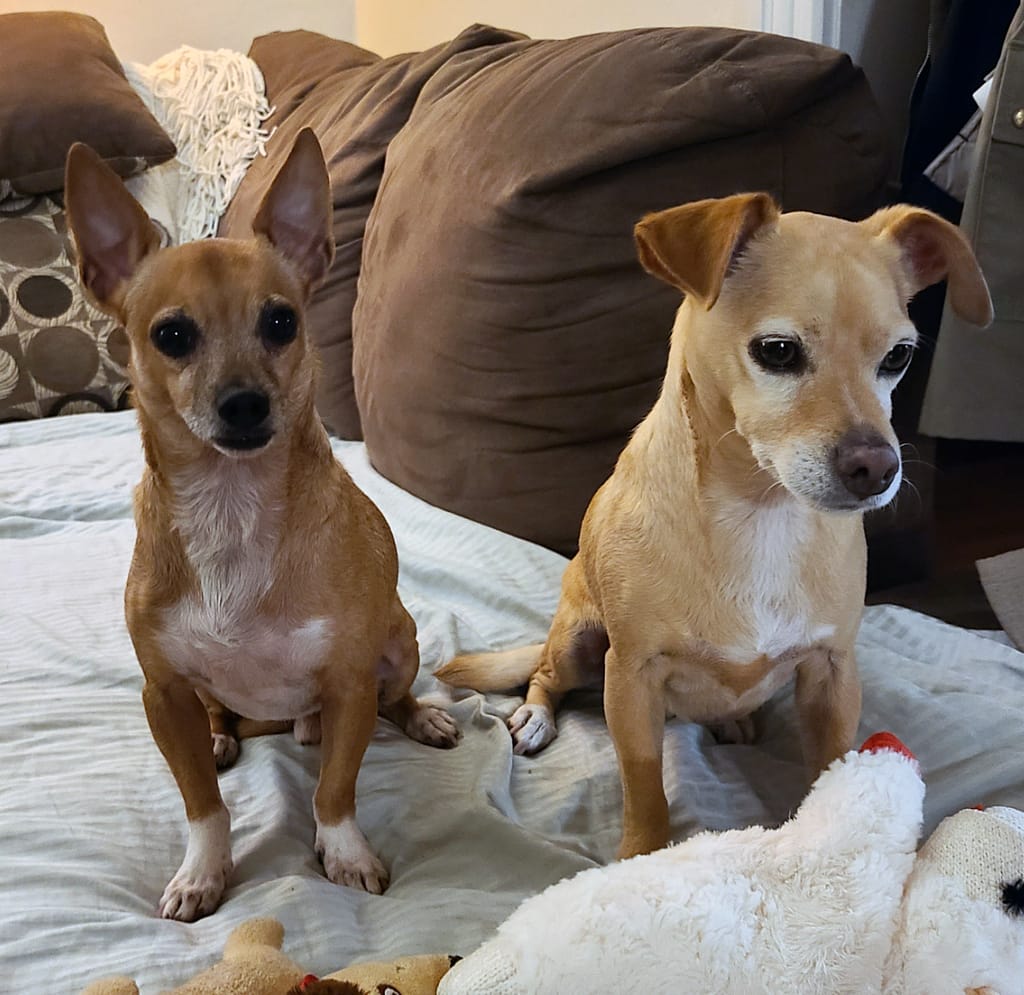 What attracted you to working for PLA?
The PLA team brings a lot of years of experience to the table for our clients. It's a great group of people who collaborate beautifully as a team for the best interests of our clients. PLA is highly respected in the industry so often this helps with a smooth claims process with seasoned adjusters from the insurance companies.