The owners of a commercial condo building asked us to help them file a claim on year-old damage that they'd recently found. The damage was caused by ice dams, and we discovered that it was far worse than the insurance company adjusters initially thought.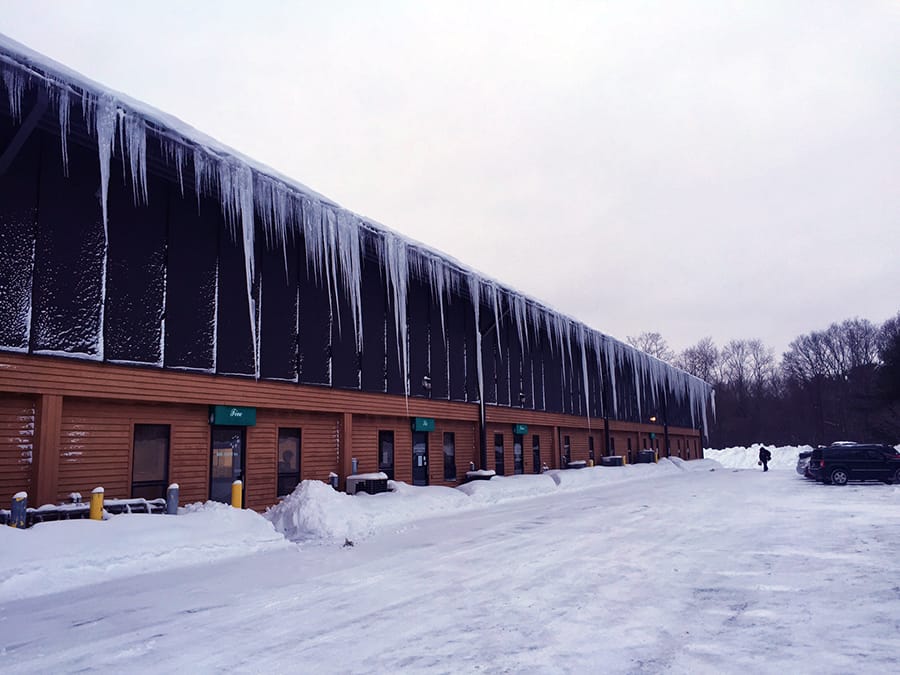 The insurance company sent out several adjusters, some from other parts of the country, to assess the damages. As each adjuster examined the damages, the value of the damages changed. At one point the insurance company hired an engineering firm to assist it with determining the cause of the damage and how to fix it. The engineer reported that he saw no damage and the insurance company denied the claim based on that report.
We believed the engineer was in error and brought in a local metal roof and building contractor. With their help and guidance, we were able to prove that in fact, water did get into and underneath the metal corrugated panels and onto the backside of the insulation, causing it to sag. Once the insulation was compromised, by sagging, a void developed between the underneath of the metal roof panels and the insulation. This void would allow for condensation to build up which would eventually compromise the metal roof panels with rust and corrosion.
The insulation was installed "in-tension" so that it lays directly against the underside of the roof panels. Once the tension is broken in this type of installation, the insulation must be replaced. The insulation is installed as one continuous piece that runs in strips from the peak or ridge of the roof all the way down to the eaves. When properly installed, the metal panels fit right on top of the insulation providing the needed "in-tension" installation. The only way to achieve the in-tension repair is to remove all the roof panels, resulting in a completely new roof.
The ice dams ran on both sides of the entire length of the building, which was 300 feet. We and our clients were fortunate in that they actually had photos of the ice dams on the building. Those photos along with installation specifications from the manufacturer and the actual physical evidence of the sagging and stained insulation convinced the insurance company to set aside its own engineer's report and extend full coverage. The insurance company agreed to pay for a completely new roof and insulation system.
This claim went from being denied to being settled for over $600k.
Persistence and hard work made the difference for our clients. Call us today for a free consultation to see what we can do for you.
Post written by PLA's Howard Shore